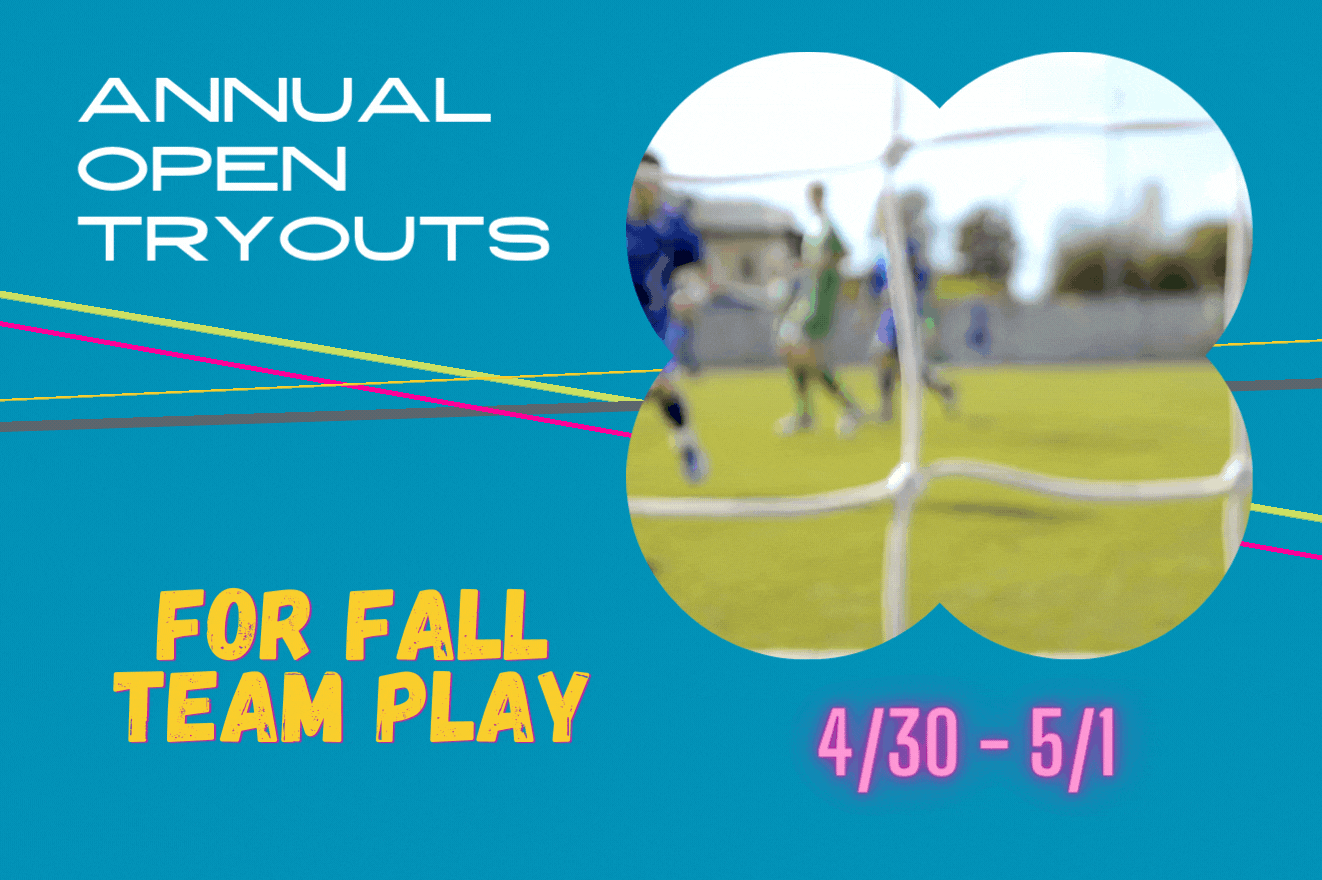 Tryouts are Coming!
What does that mean for (you and) your player?
Competitive Tryouts will be held over the course of one weekend (April 30 - May 1). There are no games that weekend for SFYS teams to accommodate this, but participation is completely optional. 
BEFORE TRYOUTS
Note that tryouts give coaches a chance to evaluate players, but they are not generally good for players or families to evaluate clubs or teams for fit. Also, it is not possible to attend all the tryouts during the tryout weekend, so: Do Your Research. One of the challenges and benefits of playing soccer in San Francisco is that we all share City resources, and it's possible to see a nice cross-section of clubs and teams at any field complex for both practices and games. (It's also why SFYS can't host games on tryout weekend.)
We HIGHLY recommend attending team practices or games in advance of tryouts to get a sense of coaching and playing styles - and so that your player only attends tryout(s) that make sense for them

.
Where are teams practicing? 
>>> SFRPD Spotery Public View of Team Practice Allocations
ANY Player may OBSERVE a practice.
ONLY Recreational Players moving to Competitive Teams may participate in a practice by appointment. Ask the Team or Club you're interested in to secure a practice participation appt.
Each year we're asked one recurring question from parents, which is "...when is the right time to consider a move to travel?" The short answer is there is no right time, as many families find that between the recreational level and local competitive leagues within SFYS, there is a broad spectrum of competition and years of development opportunities for their child. But for those ready, you can read some SFYS guidance.
Also, check out High Performance Week at Soccer Parenting - a week dedicated to supporting, guiding, educating and inspiring parents (and coaches) who have players with big soccer dreams! There will be 2 live events, 12 interviews, and lots of opportunities for parents to interact and learn from with experts and each other. Register and learn more at: SoccerParenting.com/high-performance
(Thanks to our SFYS Soccer Parenting membership, there is no additional charge for participating parents!)
Crucially, it's important to focus on your player's needs, not some elusive "should" out there. Players who love the game that are in a good environment where they are challenged but still having fun will keep playing and keep getting better. Over time, it often makes sense to move between teams/clubs to accommodate that growth - but there is no set path or timeline for this transition. We've got lots of resources to help guide your decisions - and a little something else, too! If all the consideration is causing stress in your family, join us (virtually) at lunchtime on Thursday, April 28th for some soccer stress management techniques!
When are tryouts?
Apr 30 - May 1 : (Optional) Competitive Tryouts 
Alas, there is no centralized calendar to find tryout times and locations, or see a complete listing of all teams and clubs that are looking for players. Refer to the SFRPD-Approved Team and Club Flyers for more information and confirm with the team or club you are interested in trying out for when and where tryouts are.
Clarifications: 
1/ SFYS does not endorse any club. If you see our logo on a flyer, it is because that club has teams that participate in our SF Youth Soccer Leagues.
2/ For budgeting purposes, SFYS Player Registration costs for SFYS house league recreational and competitive play is conservatively $100-$150 per season (Financial Aid available). Any charges above that are for team or club benefits (coaching, uniforms, tournaments, etc.), which vary by team and club - please be clear of SFYS charges.
Players are not required to attend tryouts, nor is there any requirement to play competitive soccer. That said, many players do want to! And in San Francisco there are more than 20 great clubs to choose from - and some independent competitive teams as well.  
Though SF Youth Soccer does not endorse any club or team, we do have some strong recommendations re: considerations for how to determine which team or club to try out for if the move makes sense for your player.
Additional Considerations
Players may register for ONE TEAM only. This rule applies to All Players at all levels (Microsoccer to premier Travel) - but all Travel Players will have to sign a commitment form to confirm their understanding of this city rule.
Reminder: Where you play is largely up to you! Many clubs will extend offers to all who come to tryouts, so make sure the team or club you choose is the right fit before making the commitment to play. Once registered on a team, there is no guarantee of transfer, especially if the team you choose is only at the roster minimum.