Programming - Team Time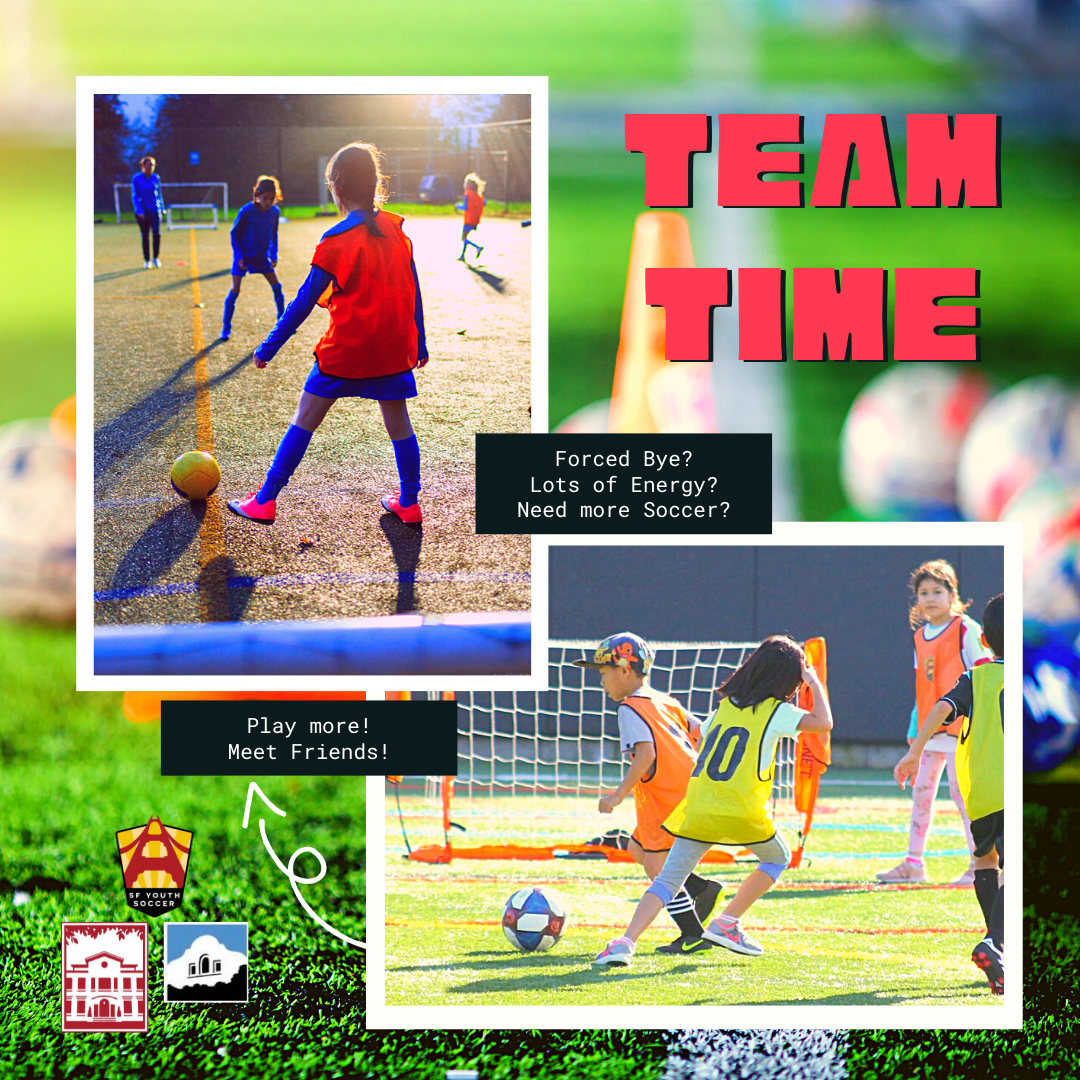 Team. Time.
The clinics were introduced in 2016 to provide additional practice and play opportunities for team coaches and players that want to play even more. Most teams practice once, some twice.
In addition to individual player clinics, this is additional for teams to enjoy more time together and more time with the ball. All teams from SFYS Recreational, SF Upper House and SFYS Varsity are invited to join us on a date/time that suits their schedule.
The space is free and is part of #PlaySFYS
​How it works - Teams select and register for their preferred date(s) and time(s).
SFYS will provide you access to besutiful field space for additional practice and scrimmage time.


The field - Paul Goode Field.


Why - Play is important for players to love, experience, and enjoy the game of Soccer.
​The space that SFYS has made available is addressing that for the players.​


When - Fall 2023.
3-5 pm. Register here to secure your space!
SFYS has been allocated the fenced in practice field, which can accomodate smalll-sided games and ~40 players.

Can't make the designated team time slots?
What about these additional methods for play:
Local partner resources.
Shared Schoolyards. This is a wonderful project that opens up school yards on the weekend, during the school year. There is a really good chance that if your school is not opened up yet, then another local school will be.
Yes, you will probably be playing on black top. We do it every week in our School Soccer programming! The kids aren't afraid…


Open spaces. SFRPD keep fields open for public use on a first come first served basis. There is a schedule so the same fields are open at the same time each week.T he openings are posted at the field and not online.
Please remember, it is open space, for all.


The beach. Beach soccer. There are miles of beach to play on. The challenge, effort, and skill to play on the beach are completely different to the grass/turf/blacktop game and we love it. The beach doesn't have opening hours, but you can bet it's super busy on a sunny weekend day!


So there you have a few ways to get additional play. It requires your commitment as the coach or manager to rally the team and give them the options to meet up and play together. We love the ideas above because they help combine the soccer community with including school and team mates that can come together for SFYS programming. We encourage you to share your activities with other coaches and through #PlaySFYS to help spread the play culture further in SF.
Do you play somewhere else that you would like to share or have some ideas that could help other coaches / players? Please share!
TeamTime Plaudits:
"At first there were two parents+kids games going, then after one finished, we used the whole field and added some players from the other group that stuck around. ... These mixed-age pick-up style games are such a great way for younger players to develop. Thanks for organizing the Paul Goode space." - Dave (Grattan Hawks)
​"Matt (Peabody Orcas 09B White) and Tony and I (4th - Peabody Orcas Boys) took our teams down there on April 20th for a scrimmage. Tony refereed but basically we just let the kids play. All the players had a wonderful time and it really reinforced for me how valuable it is to have the kids play soccer just for the love of playing. It seems that too many of the kids in the city are only playing during adult-led practices or in adult-coached games." - Heather 
Thank you to the Presidio Trust and University High School for their community partnership and the use of the Paul Goode practice pitch!