SFYS at School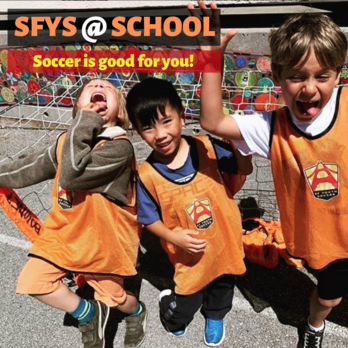 SFYS at School was created in 2018 with three objectives:
1 - Address the need, and desire, for structured activity at school during recess and lunch,
2 - Deliver on the SFYS mission for supporting soccer in San Francisco.
3 - Empower children to learn autonomously through playing pick up soccer.
The long term program goals are to provide more coaching experience for coaches across the city, to get more players into teams in the SFYS divisions, and create a self-funded program that directly supports soccer - we would love your donation right here!
>>> The master plan for developing soccer in your school
>>> Why school soccer works...
Did you know that you can get SFYS into your school​for lunch time or after school soccer?
For now, SFYS is attempting to grow the program in as many schools as possible, with flexibility around the time and day. SFYS fundraises for this program, so whilst there are funds, the program is free! We'll come once per week for a semester, or longer and provide quality structured activity to maximize play time!
>>> Simply complete this form to start the process of bringing SFYS to your school!