Soccer Fields

Soccer Fields & Pitch Locations
Rainout - Smokeouts: Field Status
Generally speaking, the protocol for rain is -
Turf Fields: Game ON if your match is on turf (unless there's lightning - then pause the game, wait 30min, resume if no more lightning).
Grass Fields: Closures are on a per-pitch basis (some fields can handle more water than others).
IMPORTANT: Do not assume that a game later in the day is cancelled just because a morning game may be ... CHECK the FIELD STATUS before your game. If a pitch can stay open or be re-opened, it will be. ​And per our Rainout Policy, "if a team fails to show up for a game that has not been canceled, [the team] shall be awarded a loss and be required to pay the forfeit penalty of $100."
Presidio Trust (Ft. Scott) : Hotline 415/561-2115
​Field closures will be designated on site via red and green lights on the restrooms and a sandwich board on the north-side of the field

Wildfire Smoke // SFYS Air Quality Playing Protocol
---
Snack Location:

 Have snacks 

outside the field area

, not on the pitch. There is no food allowed on the plastic turf. 

NO DOGS are allowed on any field.

 Please leave your pet at home. 

(San Francisco Park & Rec Code 7.1 Sec. 5.02)
Pack it In, Pack it Out.

 We are responsible for making sure that all trash is removed from fields. If trash cans are full or unavailable, take your garbage with you.


Pitch Orientation
Field Complexes




---
Crocker Amazon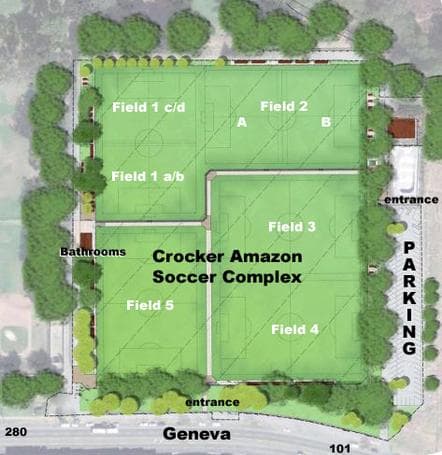 ---
Polo Fields, Golden Gate Park
---
Minnie & Lovie Ward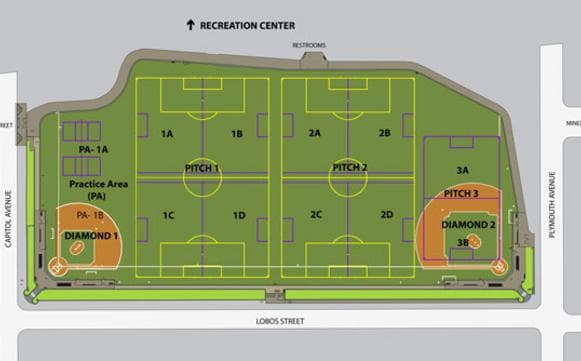 ---
West Sunset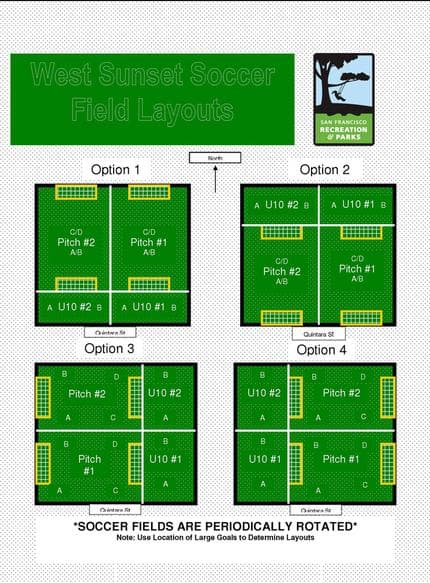 ---
Beach Chalet Soccer Complex