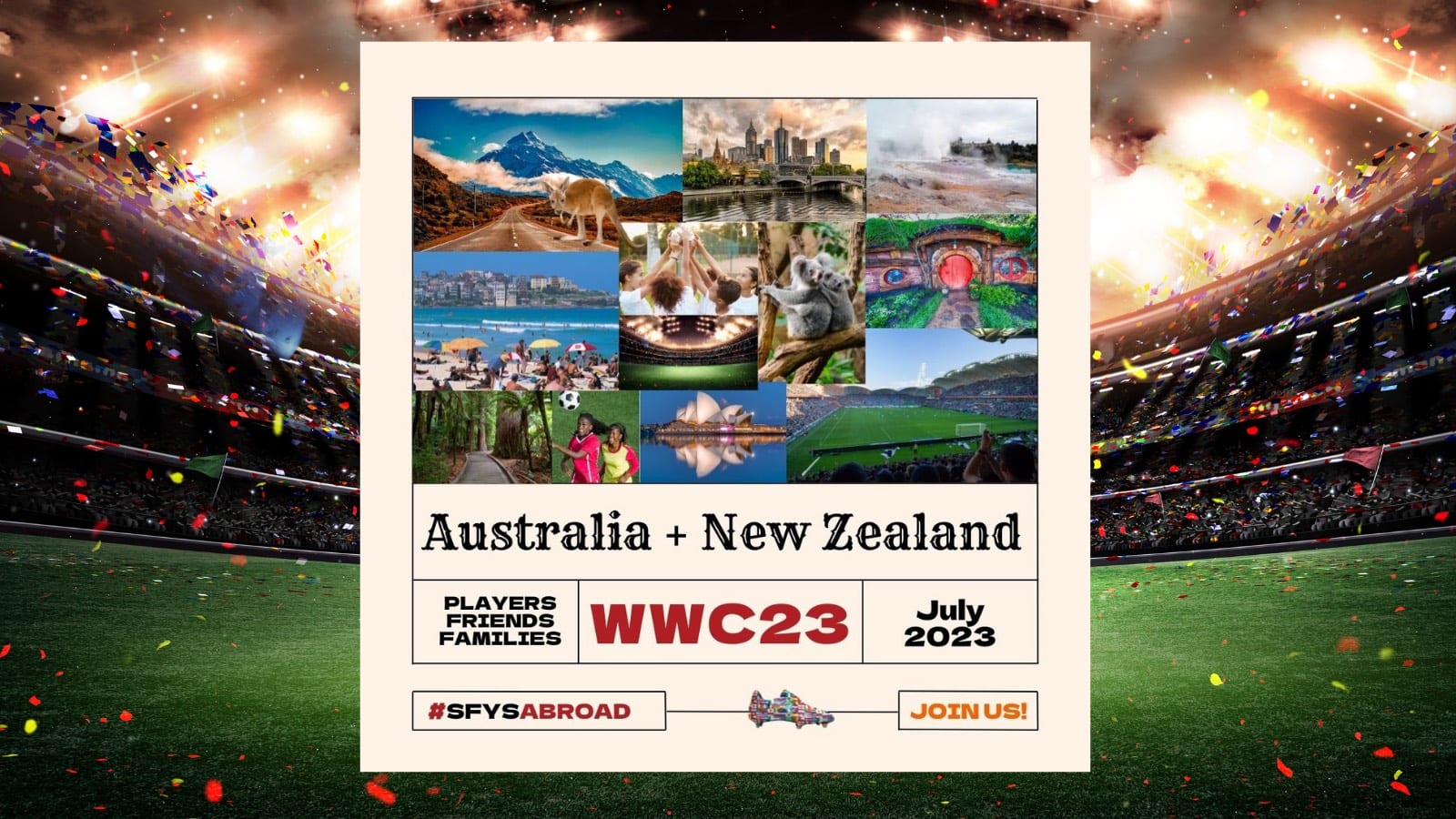 #SFYSAbroad July 2023 Womens World Cup Trip
Your adventure will include WWC Games, site-seeing and more!
Trip Dates: July 21, 2023 - August 2, 2023
Building upon the success of the inaugural #SFYSBroad 2019 FIFA Women's World Cup trip, San Francisco Youth Soccer will be heading to Australia and New Zealand in summer 2023 to see multiple World Cup games and visit cultural and historic sites along the way!

WorldStrides Sports ran our WWC 2019 trip to France and was truly amazing, so we are really excited to be working with them again on this trip. Some of you might recognize the name from educational trips they offer in schools! WorldStrides also offers help with fundraising, Returner discounts, has flexible monthly payment plan options including paying after the trip, as well as family & early sign up discounts!
Discounts
Early Registration Discount - $250 off per person if you sign up by September 20, 2022
Returner Discount - $100 off per person if you have travelled with WorldStrides before (any Academic/School or Sports trip all count)
Family Discount –10% off for 3rd family member, 15% off for 4th+ family member(s)
Team Discount – $100 off per person when a team sends 8 or more players
All you need to do to get signed up is pay an initial $50 or $99 deposit depending on what payment plan you choose.
TRIP REGISTRATION INSTRUCTIONS
Jamie Kent – 916-850-1987 - Jamiek@worldStrides.com
REGISTER ONLINE
Enter your group's unique Trip ID: Kober-9006
Click the ACCESS TOUR PAGE button to go to your group's private webpage.
To register, click the ORANGE SIGN UP NOW button on the right-hand side of the page.
Select supplemental trip protection plan if desired. (Optional).
Select preferred payment plan.
Read and agree to all terms and conditions before submitting application.
FUNDRAISING SUPPORT
'Gift of Sport' donation page

– Set up through your online account once registered – share via social media to receive donations directly into your account.