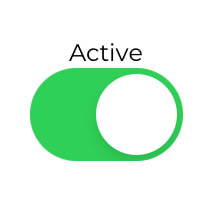 Player Activation: Guest Play
Is someone missing from the roster? This might help!
Did you know… Each team must have a printed game day photo roster?
If you print right now, you should see every player and coach listed, as well as who's cleared to coach. Anyone/anything missing? The sooner you can let us know, the better chance we have to sort you out before game time!
Here's one thing in particular to keep an eye out for: we've seen a few players missing from rosters because they were inactivated through the guest play feature. If you're looking at your roster in the app, you may see a red "Inactive" label under the player's name.
How to fix it: how to add a guest player. Once you select the game, make sure everyone is toggled over to Active/green. Back out to your roster with the arrow at the top left corner → boom, they should be there!