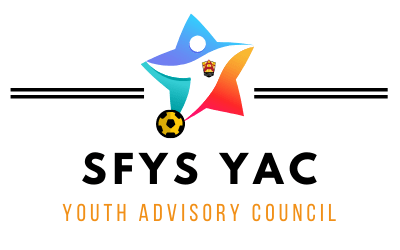 Youth Advisory Council: Monthly Wrap-Up and Next Event
Find out what YAC has been working on, and sign up for our (first ever!) event next week.
Hi all!
SFYS's first ever YAC has been in full swing for about one month now! We have come up with so many ideas and are excited to launch two projects:
We are hosting a Mental Health Awareness & Support Q&A on Zoom next Thursday, May 19, at 5:30 pm. This was designed and will be led by members of YAC in honor of Mental Health Awareness month. We will talk to two youth mental health experts about questions that help us learn more about how to take care of our own mental health, and support others too. SIGN UP HERE. Everyone in SFYS is welcome!
We are launching a Youth Referee FAQ Project, where members of our YAC create informative posts about their experiences as youth refs, and also explain rules that are important in understanding and creating a safe and fun environment for players, coaches, spectators, and refs. The Youth Referee FAQ Project will start in June. Comment below if you have any questions you'd like a youth ref to answer!
We are still accepting applications for YAC! If you feel inspired by our first two projects and want to join in, APPLY HERE!