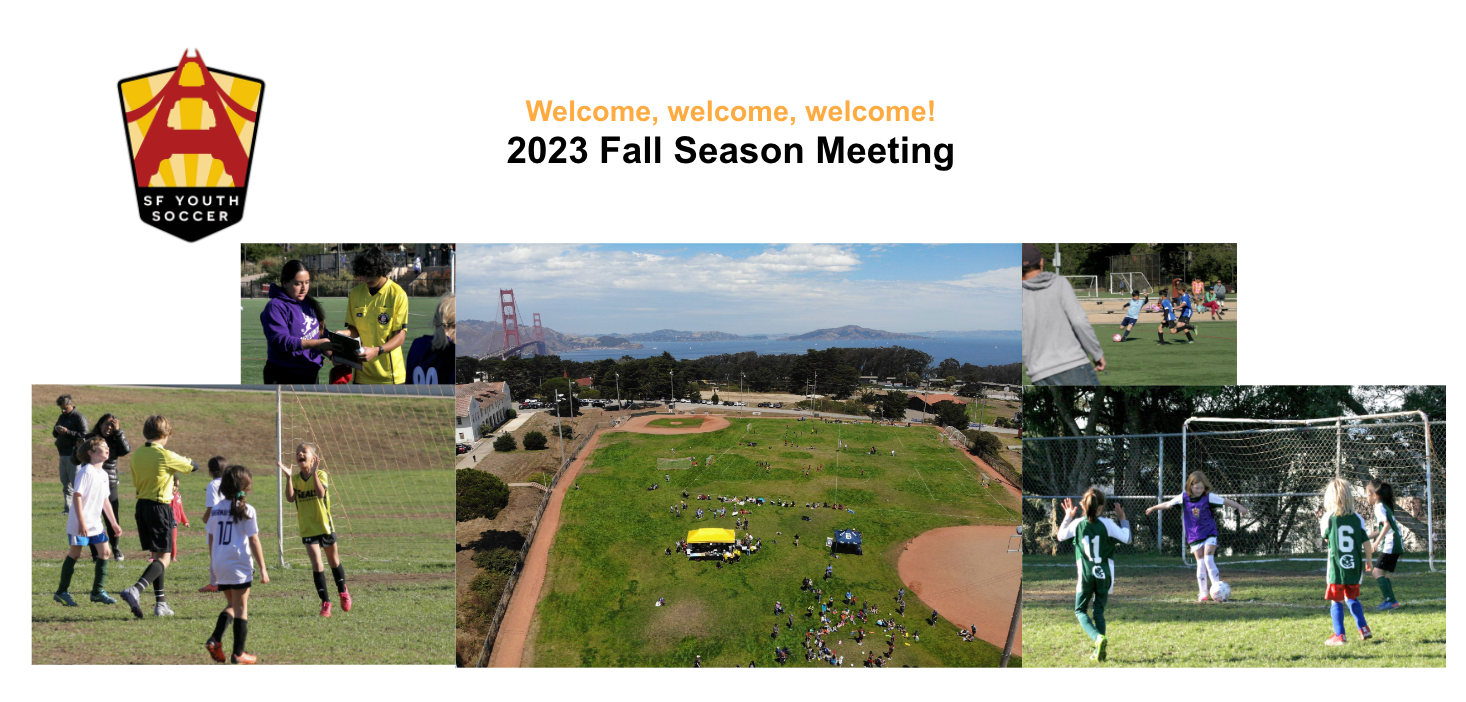 Fall 2023 Pre-Season Meeting Q+A
Virtual meeting was held on Th 8/31 at 7:30pm
Hi all!!

00:10:27    Lucy:    Can you please tell us where and what time the field training is tomorrow?
Is the field session assignment still necessary? I couldn't find access to it on the US Soccer profile
SFYS Final Field Training on 9-1, 2023.

00:10:52    Young Shin:    SQWAD players not allowing us to add proof of birth even through they are showing up Red on game roster. 
If admin can't upload POB, should we email them to you? There are multiple players per team missing POB
Admin can't upload birth documents, it has to be done by the account owner (parent). Yes, you may email a clean passport or birth document to info@sfyouthsoccer.com, but please make sure the subject line says proof of birth


00:14:41    Raymond "Buzz" Bonneau:    Do SF micro soccer finger prints from last year fulfill the finger print requirement?
Fingerprints- yes if you have been printed for SF Vikings Micro, they count. It make take a bit for us to connect the dots

00:16:53    Donald Fong:    If we've completed the finger printing, when will it be cleared?
Hard to say–the initial processing time is out of our hands. It can take as short as a few days and as long as a few weeks

00:17:27    Brian Keller:    re team managers: Am I understanding it correctly that it will say team managers in SQWAD are missing a required validation of a coaching certificate... but leave that as is since managers don't need that training?
YES! We want to leave the option for them to get trained if they want, but you can disregard the notification.
00:18:51    Jeanette Perez:    Where do we report who the STAR is for our team? Ours was designated after we registered our team.
Report your STAR to david@sfyouthsoccer.com
00:19:35    Adam Woollerson:    Can a named STAR also be one of the named coaches?
00:34:48    Adam Woollerson:    Can an assistant coach also be the named STAR?
On the day of a 2nd or 3rd coach may do the STAR role but they must S.T.A.R. on the opposite side of their team bench and MAY NOT COACH.
00:21:18    Lisa Ruff:    Our STAR did in person training but never received a certificate of completion. How can he get a copy? Thanks
If you are talking about a recent field training, sit tight! I am working through them but if you are referring to a previous season please email david@sfyouthsoccer.com or upload via the Team STAR submission form:
Reminder:
Team STAR & Team Parent Required


00:21:34    Erik Lin:    Can someone please put a link to the updated rules and regulations in the chat, please?  Thank you!
00:22:55    Aaron Plantenberg:    What is minimum for 7v7?
Check the Rules and Regulations, bottom of the document.
00:24:23    Jamie Clark:    Is there a final STAR training available? 
00:30:01    Sarah Wilson:    Sorry if this is a repeat question - our STAR ref is finishing the online training tonight. He missed the field trainings (because our original STAR ref canceled last minute he's having to catch up quick). Is he required to attend the field training tomorrow night? And what happens if he can't?
There is no further field training at this time but they can at least complete the online portion of the training and follow this form to identify themselves.
And also, what is the Team Parent?
Team Parent is an extra point of contact to receive in-season communications. For independent teams and smaller clubs, the team parent also votes on our volunteer board at our annual general meeting.
Reminder:
Team STAR & Team Parent Required
00:23:36    Adam Mawdesley:    Who is supposed to pay the fines?
Forfeits fees are paid via PayPal to the league.
00:28:03    Tracy Visser-Boesch:    What happens if fingerprints are still pending once the season kicks off?
Hopefully at least one coach on the roster is cleared! Any coach cleared in SFYS can also help cover, they just need to bring their own game day roster from that weekend to show the referee
00:28:16    Jenny Allen:    Are scorecards required? If so, who is supposed to provide scorecards and keep score?
Score cards are not required, coaches report scores through the SQWAD app
00:30:00    Mike Fesko:    at what age can begin as Youth referee? and what is the pay? ...my nephew may be interested if you need more staffed
Pay Scale.
New Referee information.


00:30:49    Asit Panwala:    Can children play while wearing a soft cast?
Generally, yes, but prior approval required by sending an image to david@sfyouthsoccer.com along with player name and upcoming game information.

But remember. NO EARRINGS OR JEWELERY OF ANY KIND 


00:31:18    Asit Panwala:    If a child is under 8, but in third grade, can he still play in the second grade division?
Age cutoffs for recreational divisions are grade-based, so 3rd graders can't play in the 2nd grade divisions
00:31:51    Mary Pitts:    Can we have two assistant coaches or is there a maximum of one head coach
There is a maximum of two coaches in the technical area at a time, but you're welcome to roster more than one assistant coach
00:32:32    Matthew Goldberg:    I'm struggling with Sqwad and all these pending validations.  I've got 5 players who are still in status of "pending validations" or "validations waiting for review."  But they uploaded documents weeks ago.
We're working through manual review–thank you for your patience, and just make sure they have it uploaded by Monday, September 5!
You can always send an email to info@sfyouthsoccer.com and send a screenshot of the players who are in question from your app on your phone!
**Update September 1st 3:00PM: all player photos and birth documents that have been uploaded have been reviewed. If any players are still listed as pending, they need to upload a new/replacement by Monday to guarantee we have time to review before the first weekend of games. Please make sure what you're uploading meets the requirements! Check the slide deck for some examples
00:33:42    Matt Mlinac:    Will the Sqwad app be upgraded to Premium for all of us like it was last season? (And was extraordinarily helpful for things like game RSVPs)
This season the app is not provided a premium, but you can upgrade if your team choses to do so to access all of those features.


00:35:03    Danielle Swaney:    Can a team manager also be an assistant coach?
Yes, but they need to complete field training to be a coach in the technical area on game day. (see top question for link to registration.)


00:35:20    David Farrell:    Does every player need to have a photo uploaded to Sqwad? 6/13 of my players do not yet have photos in Sqwad. (first time coach here)
00:36:00    Adam Woollerson:    Replying to "Does every player ne…"
Not that this is ideal, but I have found anyone can load a photo, so if you take a photo in practice you can update for them :-)
00:35:23    Jenny Allen:    Who is supposed to keep score on game day?
Your players will know the score, but you need to track, so you can submit the score after every game via SQWAD.
00:35:32    Leah Keller (she/her):    Is field training required for all STAR lines people?
00:37:57    Renaud DeVreker:  Can a coach deputize a STAR  to cover the attendance portion of the STAR training?

Each team is required to send one individual to complete the STAR training. Once a STAR has been trained, they can deputize anyone on the sideline to be a STAR for that game and that person is not required to have gone to field training. Obviously the trained STAR creates a better experience for the kids but they are not required to do the role every single weekend.


00:39:04    Raymond "Buzz" Bonneau:    Once the field session assignment is reviewed is the coaching certificate emailed to us? Im wondering what to upload in squad
Yes, you receive notice from the Learning Center. SFYS then updates your profile.


00:39:45    James Harvey: can a deputized STAR serve as center referee if there's no referee assigned to a game?
Yes, they are trained to do so :-)