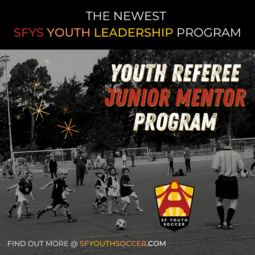 For at least the first few weeks of the season, we provide mentoring for the referees that sign up for matches that have a mentor assigned to it. New referees who obtain a license need to get a few games under their belt to develop confidence and experience to successfully officiate matches on their own. Often times a youth referee can have a poor experience and diminish their love for officiating; the mentor is there to make sure that does not happen.
With the expansion of the Mentor Program to our experienced youth referees, Youth Referee Junior Mentors will be able to train their peers; which in turn allows our adult referees mentors to offer intermediate level mentorship opportunities. This will not only help retain new referees but provide a more positive environment for the Players, Coaches, and Team S.T.A.R.s.
---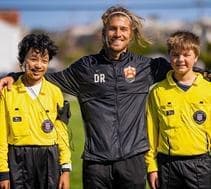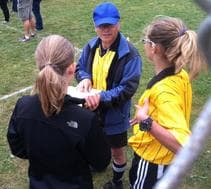 Our Senior Referee Mentors are experienced referees that can provide tips on making calls, crowd control, feedback on officiating to make things run more smoothly.
Program Manager : David Reardon
Referee Assignor : Rich Fern
Referee Mentor: Iain Anderson
Referee Mentor: Michael Meadows
​Referee Mentor: Leslie Moore
Referee Mentor: Peter Stamats
Referee Mentor: Jeff Yap
---
FALL & SPRING ​SEASONS
  Mentored Field Complexes
Grattan​ 

(2nd Grade)

Parkside 

(2nd Grade)

McCoppin 

(2nd & 5th Grade)

Palega 

(2nd Grade)

​Rossi 

(3rd Grade & Upper House)
---
​REFEREE JUNIOR MENTOR ​PROGRAM
For Experienced Youth Referees who want to take on extra responsibility (and earn extra money):
Expanding levels of referee mentors! 

​Learn to communicate through a headset!

$35 per mentored match

​Ages 14-17
---
PERKS
Be the first to sign up for games

Your Name on a Jacket
Changing the world one referee at a time